Portrait of Ernie Dingo ... the story
Marie's intention was to capture the inner depth of Ernie Dingo.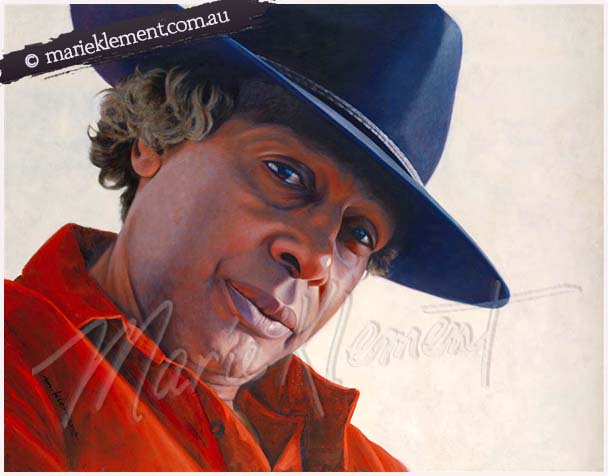 "I didn't want to paint the 'national icon' image. I have always had a deep respect for Ernie and the Aboriginal culture. It was truly an honour and privilege to paint such a remarkable man. There certainly is a lot more to him than meets the eye!

I have tried to capture that by introducing subtle hidden messages throughout the painting. The tilt of the head and the diagonal lines indicate a dynamic personality."

The eyes (windows to the soul) however, indicate a softness, a vulnerability and sensitivity, that few people rarely get to see. It's as if he almost invites the viewer to step into the enigma that is Ernie Dingo.

The red colour indicates energy and passion. It represents the outer personality and his connection with the land. The deep blues represent the hidden, intuitive, mystical and spiritual aspects of his nature and culture.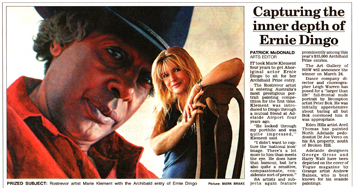 The white background is a mix of all the colours of the rainbow. It also represents the multicultural/white society he has blended into, thus creating unity and a "bridge" between different cultural worlds.

Looking closely into the background of the painting, you may become aware of hidden 'ghost' images of Ernie's grandfather, much beloved mother and cousin. Special people that have made a big impact on Ernie's life.


The painting was created from live sittings and entered in the Archibald Prize.

An article was published in The Advertiser newspaper on March 7th, 2006. It was also a Finalist in the Western Australia Black Swan Art Prize.