Page 1 here
Page 3 here

As a self taught artist, Marie has been drawing Spirit portraits, albeit mostly Spirit Guides, since 1993. After witnessing a miraculous real life vision of a White Eagle, her life took a major turn around from being a permaculture/organic farmer in North Queensland to Visionary artist.
Marie's intention is to continue to produce as many evidential portraits of deceased friends and relatives that can be verified by photographs. Which can assist in bringing peace, comfort and some closure for the bereaved.
This video is a short synopsis of how Marie does her psychic/spirit portraiture of passed away loved ones.


Below, are samples for your perusal, of portrait sketches done of loved ones who have passed into the world of Spirit. These images are psychically impressed upon Marie by the spirit of loved ones passed.
** All photos were presented for comparison ONLY AFTER the drawing was completed!

Pictures from the Spirit World – Medium Deb - 2011
How amazing to have someone draw a picture of your loved one 19 years after they passed into the Spirit World!! - Is this possible???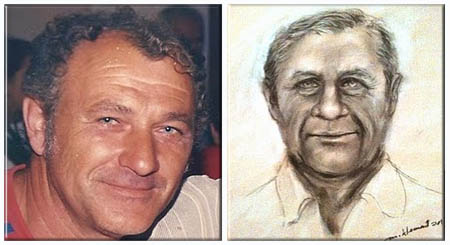 Let me assure you this is possible and there are some very talented people who do this! Being a medium myself I am accustomed to hearing people's messages from their loved ones in spirit and daily work with clients and pass on information to provide evidence that their loved ones still exist, and are still connected and loving and interested in their lives.
This time it was my turn to receive such validation!
I was away in Melbourne at a week long mediumship intensive course, studying with some of the best from all over Aust, NZ and England. Luckily enough to be selected to be in the highest group our tutor was a very talented and famous medium that had flown out from England to teach us.
Because of the calibre of fellow students in my group I had over the first few days received connection and validation from many of my loved ones in spirit from the other classmates as we performed readings for each other strengthening our skills.
More of this story here
| | |
| --- | --- |
| A drawing of Rodney who loved wearing this type of cap and was verified by the client! The only photo she had of Rod was this one, but it still shows the resemblance! | This drawing was done in a public demonstration of a client's gran and her name was Kathleen. |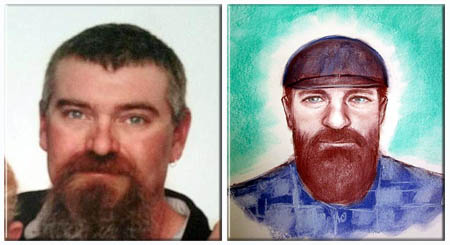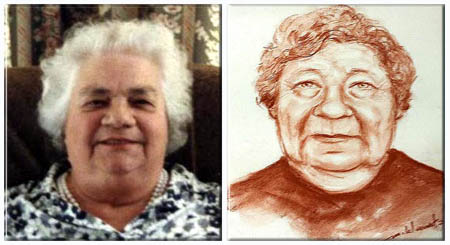 | | |
| --- | --- |
| This drawing is of a client's grandmother and was done when I was visiting Queensland. | This drawing is of a client's mother and was done when I was visiting Queensland. |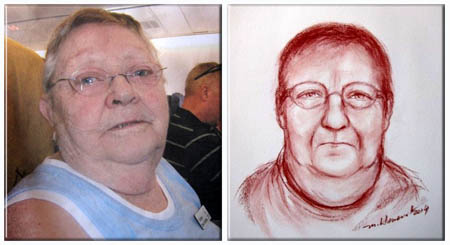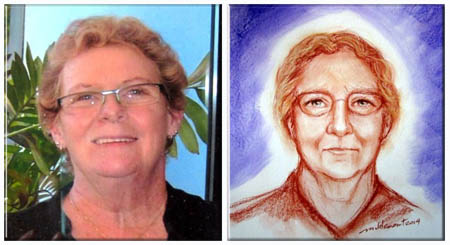 | | |
| --- | --- |
| In a private session, Neisha's husband, her soulmate, came through to be drawn. The ONLY photo she had of him was the one with a mullet-style haircut. In actual fact, he had it cut after this photo was taken of him because she didn't like it. So the sketch shows him with the new cut! | This picture was drawn of a client's much beloved father named Rex. The client was SO happy to have him come through and sent me a photograph at the age that he passed. When people cross over they often look much younger. Can you see the comparison? You can still see the resemblance. |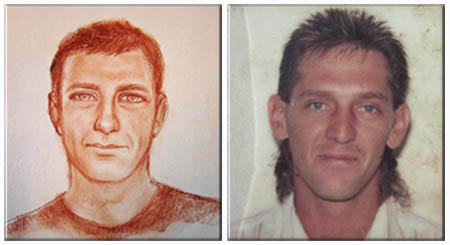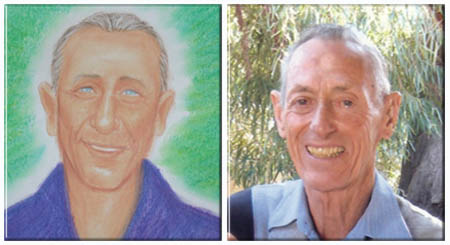 | | |
| --- | --- |
| This drawing was done in a private session while visiting Canberra. A client's dear friend who used to be a hairdresser (which was verified during the reading) and had recently passed, came through! The photo for comparison was given to me straight after the session! | "David" a clients' husband who passed away a few years ago... I did this when I was in Port Vincent, South Australia in a private session |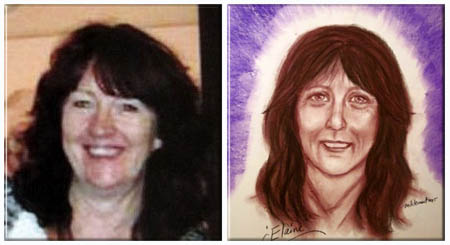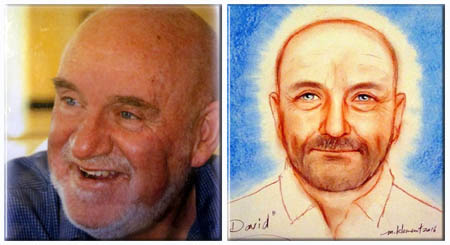 | | |
| --- | --- |
| This is a sketch done of a client's great grandmother during a private session. Dawn was researching the family tree at the time. She found an old photo of her great grandmother, Philadephia Hearnshaw. | This is a drawing of of Kay's Grandmother who is also her Spirit Guide. The likeness is pretty close! |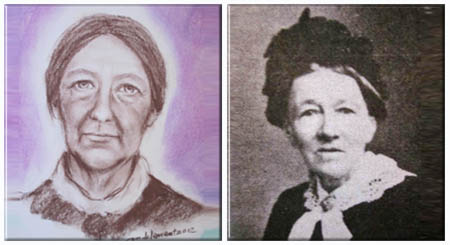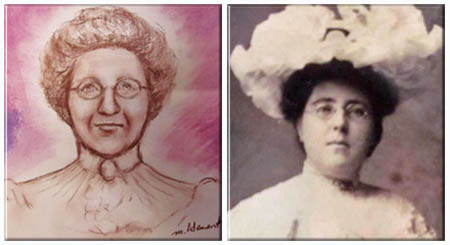 | | |
| --- | --- |
| I drew this young man, whose name was Aaron, for a family that had come to see me for a private session. He had passed in an accident and had quite a cheeky personality. | An audience members' son, Matt, who had taken his own life, came through for his mother with much love and saying he was sorry. |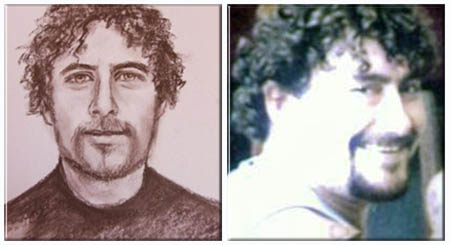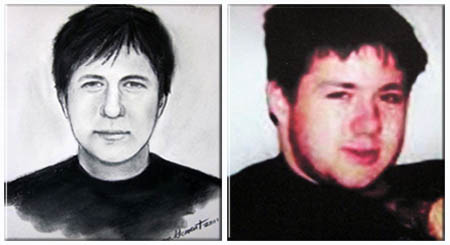 "Marie, Thankyou for my reading and wonderful piece of artwork. You have just added to the inspiration that Annie has helped me with so far. I am starting to feel like I fit somewhere now, with like minded people, and I am looking forward to my journey. Plus researching my family tree more.

You have a precious gift, and a wonderful personality, I felt like I had known you for a long time and was very comfortable with you.

Once again thank you for putting me in touch with my great grandmother, I have a very special bond with my granny (her daughter - who is 90 years young and very much in the land of the living). I am going to email her your artwork to see what her reaction will be."
- Ann Fulton, Naracoorte
Have your very own Spirit Portrait done of your Spirit Guide/Angel or passed away loved one by Marie in a private session.

She will provide you with an A3 size (483 x 329mm) pastel drawing along with verbal personal reading. Her accuracy and visions are astounding.

Spirit Portrait/readings – take approximately 1 hour.
Cost is: $185 aud (cost for private sessions in Adelaide and country South Australia trips)
Prices vary for private sessions on interstate trips (to cover cost of travel, accommodation, room and shop hire etc)!

I can also do readings only without a drawing if you wish.
Private Readings with Marie Klement (does not include Spirit Portrait)
60 minute personal reading via phone, Skype (mystic_mk) or face to face - $170
30-40 minute personal reading via phone, Skype (mystic_mk) or face to face - $90
| | |
| --- | --- |
| | Click to email Marie and book your Spirit Portrait Reading or phone 0412 084 234 |
If you are not able to visit Marie, and would like her to personally sketch a Spirit Portrait of your Spirit Guide/Angel or passed away loved one for you, all you need to do is email her a photo of either yourself or the person you want it done for along with their birth date.

A personal written reading is also provided with your A3 pastel drawing.
The following prices also include postage and handling charges.
For South Australia Postal Orders: $185aud
Outside South Australia Postal Orders: $250aud
International Postal Orders: $350aud