Page 1 here
Page 2 here

As a self taught artist, Marie has been drawing Spirit portraits, albeit mostly Spirit Guides, since 1993. After witnessing a miraculous real life vision of a White Eagle, her life took a major turn around from being a permaculture/organic farmer in North Queensland to Visionary artist.
Marie's intention is to continue to produce as many evidential portraits of deceased friends and relatives that can be verified by photographs. Which can assist in bringing peace, comfort and some closure for the bereaved.
This video is a short synopsis of how Marie does her psychic/spirit portraiture of passed away loved ones.


Below, are samples for your perusal, of portrait sketches done of loved ones who have passed into the world of Spirit. These images are psychically impressed upon Marie by the spirit of loved ones passed.
** All photos were presented for comparison ONLY AFTER the drawing was completed!

Rayeleen's dad who was much loved (done in Perth).. She sent me the only two photos she had because he is wearing sunglasses in one and had his eyes shut in another.. however, you can still see the resemblance with the drawing


| | |
| --- | --- |
| This was drawn of a client's father .. the comparison photo is rather blurry and small but its all the client had! Hopefully you can still see the similarity! | This sketch was also done in front of an audience and was recognised as an audience member's father that recently passed. |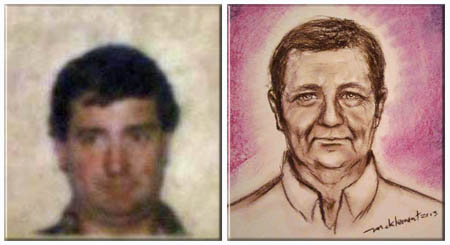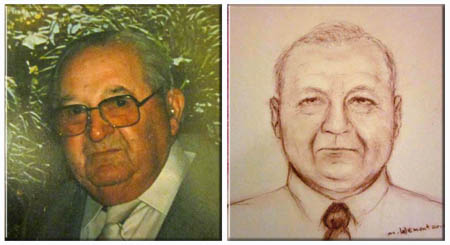 | | |
| --- | --- |
| Aunty Mim is an aboriginal lady and was drawn in front of a small audience in Adelaide. An aboriginal lady in the group recognised her straight away as her Aunt! | This sketch was done in private session in a country town, of the clients' great grandmother. An old B/W photo of her great gran was found from the early 1900's. Can you see the likeness? |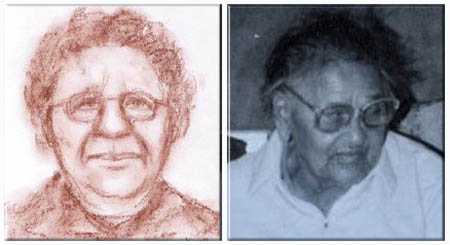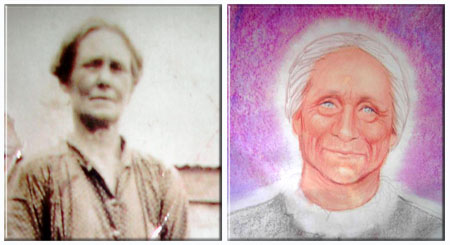 When I was doing a show in Perth, together with Scott Russell Hill (psychic from the NZ Sensing Murder series), these two girls came through one after the other. As I was drawing them I sensed that they were both murdered. I later asked Scott if he could confirm this and his comment was that I had drawn Sarah Spiers from the WA Claremont murders as well as missing girl, Rhianna Barreau from Adelaide! His TV Producer friend sent me an email with photos of both girls for comparison – judge for yourself!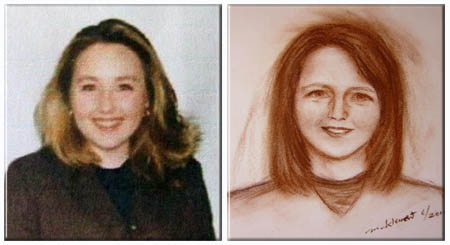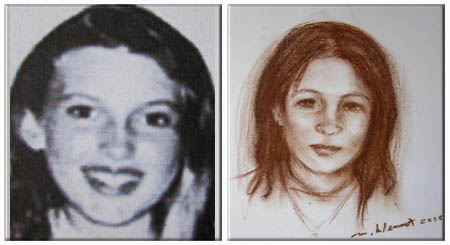 "Hi Marie, I was astounded at your accuracy! When I showed my parents, Dad went out and came back with the family tree and my great, great grandmother on his side had the same name, Mary Jane, as the drawing of my guide. I had never heard of her until then. Thankyou for doing the reading, it was so accurate I wondered if you were reading my mind! Thank you for doing what you do. May your blessings continue to abound." - Bernadette, WA.

According to dad's family history, Mary Jane married a man with surname "Chlode" and they had six children. One of them was a girl called Alice. The photo attached is actually of Alice (my great grandmother and Mary Jane's daughter) and her family. She is 40 years old in this photo, taken in 1904. The likeness is astounding - we can only assume she looks like her mother!
- (NOTE: The lovely lady I did this drawing for, first sent me a copy of just the head of the great great grandma without her neckline and the name - Mary-Jane, that I wrote.. which is actually significant as I received it during the reading.. then she re-sent the image but with the bottom half intact and her head cut off! I had no choice but to try and glue the two together as best I could to make it fit!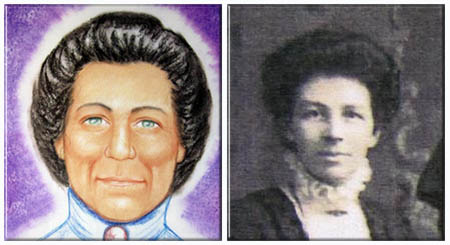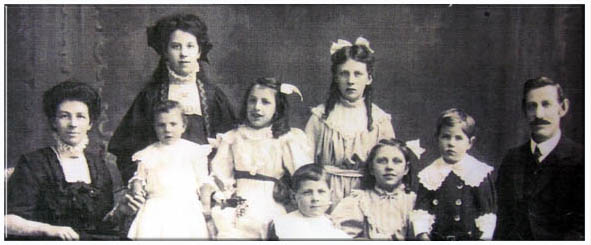 The first picture Marie drew was a picture of my grandma and with this picture she had a message about a gold cross, she was the first to come through and be drawn in front of an audience. Marie said she pushed ahead of everyone else - that sounds like my grandma, very stern! - - More of this story here.
The other picture Marie drew for me had yet another connection to our family, I kept thinking it was my other Nanna, but as I don't have many photos of my Nanna – my mum kept reassuring me that it is Auntie Greeta. Which is my grandma's sister! How amazing is that! It makes sense they would come through together. I bet if I stayed longer, I would have got another picture drawn of my Nanna, she was definitely there waiting – you are truly an amazing person Marie, I hope you keep touching people's hearts with your amazing talents, you are very blessed!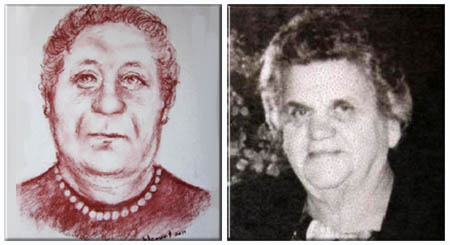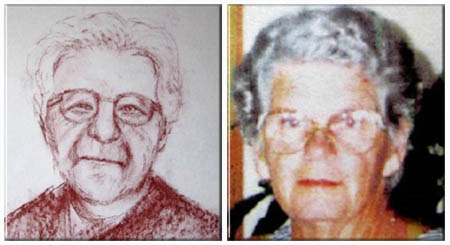 | | |
| --- | --- |
| In a private session, an ancestor came through as the client's Spirit Guide, who was her great grandfather Job Symonds. I had received the name Job S. who was a sea captain and light-house keeper who also happened to be a hero of that time! The client was actually in the process of researching him at the time and was quite excited to have some confirmation! | This sketch was done in front of an audience during a Mediumship demonstration together with Christine Morgan, in Sydney, NSW, 2013. It is of a young woman that lost her life tragically during an operation. Her sister was in the audience and confirmed it was her! |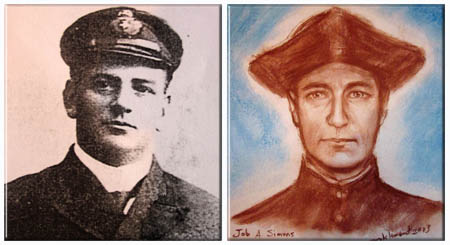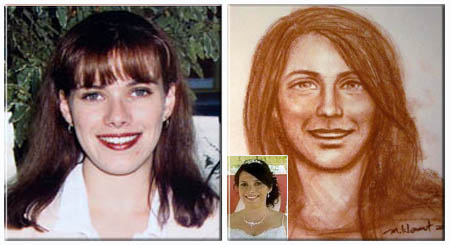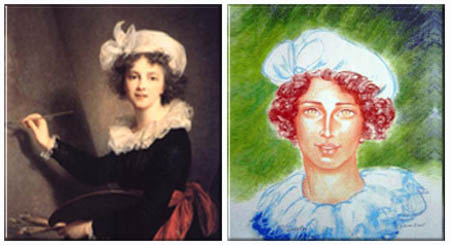 Spirit Guide - Elizabeth Le Brun
This portrait was drawn in a one hour session for a client back in 2005. The client is also an artist in Adelaide. In the reading, her spirit guide - Elizabeth Le Brun, lived 200 years ago as an artist in the 18th century. She even painted Marie Antoinette's portrait a few times.

Almost 2 years later, the client was doing some research and happened to come across actual pictures of her Guide, Elizabeth! As you can see by the accompanying picture...there seems to be a remarkable resemblance.

This is a picture found in a book of a client's spirit guide! In late 2006, about 18 months AFTER the sketch of her guide, the client found a picture in an art book and on the internet of her Guide - Elizabeth Le Brun! She existed and was indeed an artist in the 18th century and did indeed paint Marie Antoinette's portrait! This photo bears an uncanny resemblance to the picture drawn on the left!
"Marie, Thankyou for my reading and wonderful piece of artwork. You have just added to the inspiration that Annie has helped me with so far. I am starting to feel like I fit somewhere now, with like minded people, and I am looking forward to my journey. Plus researching my family tree more.

You have a precious gift, and a wonderful personality, I felt like I had known you for a long time and was very comfortable with you.

Once again thankyou for putting me in touch with my great grandmother, I have a very special bond with my granny (her daughter - who is 90 years young and very much in the land of the living). I am going to email her your artwork to see what her reaction will be."
- Ann Fulton, Naracoorte
Have your very own Spirit Portrait done of your Spirit Guide/Angel or passed away loved one by Marie in a private session.

She will provide you with an A3 size (483 x 329mm) pastel drawing along with verbal personal reading. Her accuracy and visions are astounding.

Spirit Portrait/readings – take approximately 1 hour.
Cost is: $185 aud (cost for private sessions in Adelaide and country South Australia trips)
Prices vary for private sessions on interstate trips (to cover cost of travel, accommodation, room and shop hire etc)!

I can also do readings only without a drawing if you wish.
Private Readings with Marie Klement (does not include Spirit Portrait)
60 minute personal reading via phone, Skype (mystic_mk) or face to face - $170
30-40 minute personal reading via phone, Skype (mystic_mk) or face to face - $90
| | |
| --- | --- |
| | Click to email Marie and book your Spirit Portrait Reading or phone 0412 084 234 |
If you are not able to visit Marie, and would like her to personally sketch a Spirit Portrait of your Spirit Guide/Angel or passed away loved one for you, all you need to do is email her a photo of either yourself or the person you want it done for along with their birth date.

A personal written reading is also provided with your A3 pastel drawing.
The following prices also include postage and handling charges.
For South Australia Postal Orders: $185aud
Outside South Australia Postal Orders: $250aud
International Postal Orders: $350aud