Page 2 here
Page 3 here

As a self taught artist, Marie has been drawing Spirit portraits, albeit mostly Spirit Guides, since 1993. After witnessing a miraculous real life vision of a White Eagle, her life took a major turn around from being a permaculture/organic farmer in North Queensland to Visionary artist.
Marie's intention is to continue to produce as many evidential portraits of deceased friends and relatives that can be verified by photographs. Which can assist in bringing peace, comfort and some closure for the bereaved.
This video is a short synopsis of how Marie does her psychic/spirit portraiture of passed away loved ones.


Below, are samples for your perusal, of portrait sketches done of loved ones who have passed into the world of Spirit. These images are psychically impressed upon Marie by the spirit of loved ones passed.
** All photos were presented for comparison ONLY AFTER the drawing was completed!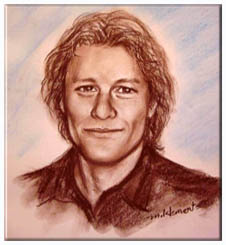 (For full story click on image)
I sat quietly on stage and drew one passed away spirit after the other, then all of a sudden, I had sensed the presence of the actor, Heath Ledger ... but doubt had crept in and I just ushered out the energy, continuing with drawing loved ones passed for audience members.
It was a few minutes later Anthony began his demonstration of mental Mediumship. He suddenly stopped mid sentence and mentioned to the audience there was a very special guest from the spirit world come to join us and pass on a message to some family members in the front of the audience.
It was Heath Ledger!

Here is a sketch I did of a client's son who passed away from cancer. Con was his name, and you can see a similarity between the two photos when he had lost all his hair and when he once had long hair and some facial growth. The sketch seems to combine the two!



"For everyone and anyone who wants proof of contact with their deceased loved ones, I thoroughly recommend Marie Klement. Not only did she give me an accurate reading, she also put an end to a 30 year quest of finding a medium who could give me my Mother's name. She came straight out and said her name "Nellie". She also got my sisters names straight out without any guess work. All other information was correct as well. Quite mind blowing!! But the biggest surprise was yet to come, when she showed me the sketch of the lady she was drawing, all I could see was my darling Mums eyes staring back at me. I am still in shock today! And at last my quest to find my mother has been put to rest!!!! I cannot sing the praises of Marie loud enough. Marie you will never know how much you have given me, and I love you to the moon and back again. My personal belief, this Lady is an Earth Angel. So for anyone who is grieving and missing their loved ones, contact this beautiful lady now. Let her lead you back to Peace! With grateful heart I thank you Marie. Namaste
Helen Hutton - P.S. You will be hearing from me again, that I promise."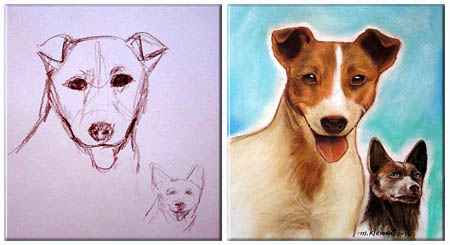 During a Skype session with a client living in country South Australia, I tuned in to her pet dog who recently passed away. As I had not drawn too many pet animals before I decided to describe the dog first, also I am not the best at identifying the type of dog. So I just described it as being small with brown and white colouring, short hair etc. I then proceeded to do a "rough" sketch of what I saw or sensed .. it was a Jack Russell, and I showed the client on Skype the rough sketch, which was confirmed as being her beloved Buddy. Also I picked up on an older dog who had passed many years ago, who was helping Buddy as he crossed over. This dog was also confirmed. I then explained to my client that after the session, I would go to my drawing table and take my time in re-doing the rough sketch to a more finished version for her!
Here is the following response email from the client -
"Dearest Marie I got my drawing and notes this morning and I cried, it's my Bud, you captured him so well, thank you so much for this. It means so much to me to know he is ok, as I have felt so bad for making the decision to send him home so soon, thank you again I am so grateful for you - he is so cute I miss him so much.
I thought the older dog looked like a farm dog at a farm I lived on for a few years, I lived there 30 years ago and his name Bango. He was a lovely old fellow, not mine but I used to feed and take care of him for my father in law"

This drawing was done in a public demonstration at a party in Queensland. It turned out to be someone's nan. The client went straight away to find some photos for comparison and brought them a few days later.



This gentleman was drawn in a private session for a lady who had lost her husband. She was so happy he came through and later on she found some photos of him for me to compare with the drawing. Two photos were sent. One is of him when he was younger, and the other was taken just before he passed on to Spirit. It's interesting to note how we go back looking younger in the Spirit world .. can you see this in the sketch? He looks as though he is in between the older and younger versions.


| | |
| --- | --- |
| The young woman's brothers death was a sudden shock to the family and when she flew to Adelaide she came straight from the airport to have this session where he came through! He had passed in a tragic boating accident. | This drawing of 'Mick', the clients much beloved husband, was done in a private session in Western Australia. The client sent me a photo of him a little later. |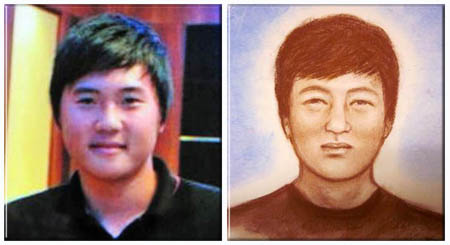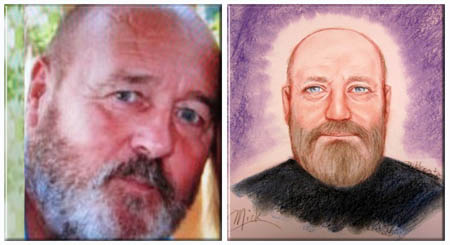 I thought I would just share this spirit portrait I did recently in Victoria of a mother's beloved son who had passed away not that long ago. I could sense the character and personality of this wonderful Soul.
He used to wear glasses (which came up in the reading and drawing) with a black rim but WITHOUT the actual glass in them .. when his mum asked him why he did this he said it was just to look COOL .. this made her laugh each time!! Hilarious!!
His mother was so delighted to see him appear on paper and was so relieved to know that he was still alive and doing well in the Spirit world! His mum was also kind enough to find a couple of photos of her son to share with me and validate the drawing I just completed for her..
| | |
| --- | --- |
| This is Jackie's nan who came through in a private sitting while in W.A. She didn't have a very good photo of her nan for comparison .. but regardless of quality you can still see the resemblance. | During a private session with Kathy, her dad in spirit came through for her. He already looks a tad younger in the Spirit world! |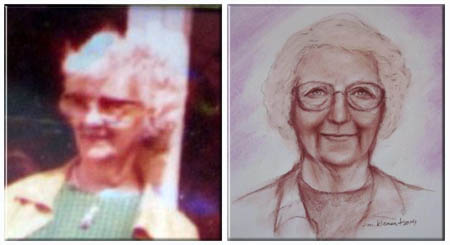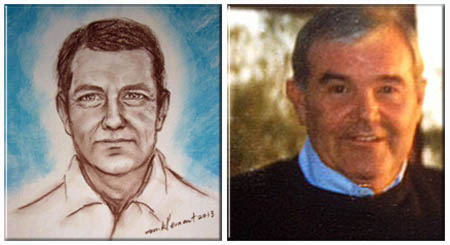 | | |
| --- | --- |
| This drawing is of 'Percy' who is a much beloved grandfather for a client in Western Australia. | This is Jan's father who came through for her in a private session in Western Australia. He even showed himself smoking his pipe! |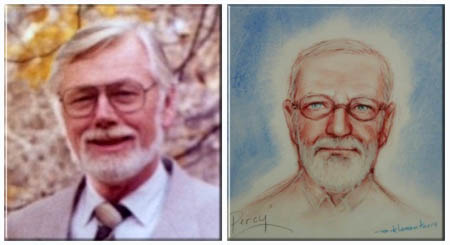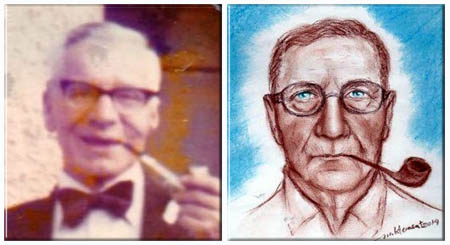 | | |
| --- | --- |
| I had a client come from Singapore and you can imagine her surprise when her dear grandmother that came through for her from the spirit world. She sent me a photo for validation a few weeks later. | The drawing shown here was done in a private session for a client in S.A. who lost her beloved husband, Paul. The rose was also significant for her and she sent me a photograph for comparison ONLY AFTER the drawing was completed! |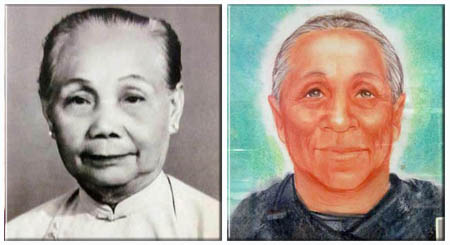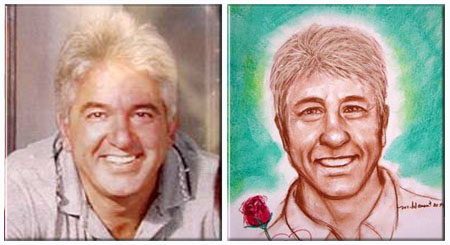 | | |
| --- | --- |
| This was a drawing done in a private session for a client whose mother, Jean, came through for her daughter from the spirit world. | Here is a sketch I did in front of an audience and it turned out to be a much loved grandmother for an audience member. The person receiving it got a wonderful surprise! |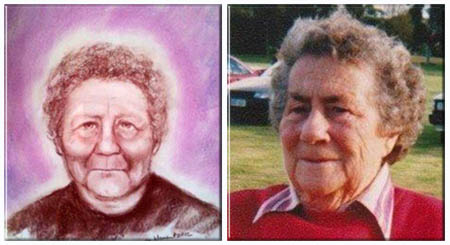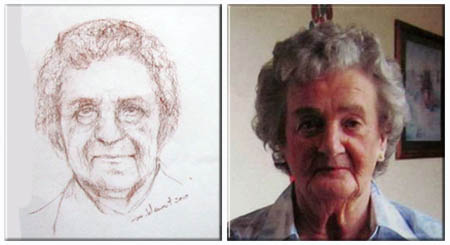 "The resultant artwork I was presented with from this experience is very beautiful indeed and left a great big smile and love within me. I shall always treasure it and the experience of all the energies that came to connect with me today and in the knowledge that they have confirmed they are always around me.

I had been touched by truly precious energies. I also felt very powerful and left with a strong sense of self. It was indeed was on those experiences I wanted to last forever and did not want it to break in any way in our routine daily living."
- Robin
Have your very own Spirit Portrait done of your Spirit Guide/Angel or passed away loved one by Marie in a private session.

She will provide you with an A3 size (483 x 329mm) pastel drawing along with verbal personal reading. Her accuracy and visions are astounding.

Spirit Portrait/readings – take approximately 1 hour.
Cost is: $185 aud (cost for private sessions in Adelaide and country South Australia trips)
Prices vary for private sessions on interstate trips (to cover cost of travel, accommodation, room and shop hire etc)!

I can also do readings only without a drawing if you wish.
Private Readings with Marie Klement (does not include Spirit Portrait)
60 minute personal reading via phone, Skype (mystic_mk) or face to face - $170
30-40 minute personal reading via phone, Skype (mystic_mk) or face to face - $90
| | |
| --- | --- |
| | Click to email Marie and book your Spirit Portrait Reading or phone 0412 084 234 |
If you are not able to visit Marie, and would like her to personally sketch a Spirit Portrait of your Spirit Guide/Angel or passed away loved one for you, all you need to do is email her a photo of either yourself or the person you want it done for along with their birth date.

A personal written reading is also provided with your A3 pastel drawing.
The following prices also include postage and handling charges.
For South Australia Postal Orders: $185aud
Outside South Australia Postal Orders: $240aud
International Postal Orders: $350aud